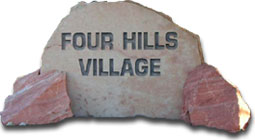 WELCOME TO THE FOUR HILLS VILLAGE
NEIGHBORHOOD ASSOCIATION
a City-registered* Neighborhood Association
Our purpose
To promote the general welfare and well-being of residents and property owners in Four Hills Village (FHV)




To reflect their majority consensus, and




To facilitate the involvement and opinions of its membership.
Welcome
It's easy to participate in the Four Hills Village Neighborhood Association, just
email us
or complete our short
contact form
. Dues are optional, but are very much appreciated to defray our overhead. You can mail voluntary dues to: FHVNA; P.O. Box 51205; Albuquerque, NM 87181-1205.
Upcoming Election
Voter Information
[October 13th, 2016] - Early voting is currently available
only
at The Clerk's Annex, 1500 Lomas NW. Beginning Saturday, October 22nd, and continuing through Saturday, November 5th, early voting is available at 18 locations throughout Albuquerque, from 8 a.m. to 8 p.m. The closest location to FHV is the
Four Hills Shopping Center
. The County Clerk has provided an online map, along with more information on
early voting
. The League of Women Voters has posted their
helpful Voters' Guide
.
Bernalillo County Clerk Needs Your Help
[September 30th, 2016] - The Bernalillo County Clerk's Office is hiring as many as 1,000 Poll Officials to staff Early Voting and Election Day Voting Convenience Centers for this year's General Election. The only requirement for the position is that you be a registered voter in Bernalillo County. If you're interested, visit
http://www.bernco.gov/pollofficial
to find out more about the program and to complete an online application.
Neighborhood Updates
City Councilor Don Harris The Gateway Newsletters
The Gateway July 2016 Newsletter
(pdf)
Bernalilo County Sheriff's Newsletters
Bernalillo County Sheriff's June 2016 Newsletter
(pdf) - heat-related health, "look before you lock," summer tips.
Bernalillo County Sheriff's May 2016 Newsletter
(pdf) - graduation parties, sex offenders, summer tips.
NM Department of Transportation Traffic Reports
NMDOT District 3 Traffic Report - 08/11/16
(pdf), I-40: University lane closure (EB)
NMDOT District 3 Traffic Report - 07/14/16
(pdf), I-40: eastbound right lane closed at Louisiana
City of Albuquerque Planning
City of Albuquerque's Planning Department's Report on Issues Facing ABQ/BernCo
(pdf) [08/20/15]
Road Condition Updates
Road Advisory Hotline, call 511
Check
nmroads.com
(pdf) for latest road conditions; sign up for email/text alerts by downloading their mobile app
Other Notifications
Policy & Procedures Regarding Covenants and Architectural Control
(pdf)
Plans
Rio Metro Draft Transit Plan
(pdf)
*the difference between a City-recognized and City-registered Neighborhood Association is one of name only: both file the same paperwork, both are approved by the City of Albuquerque, and both receive the same notifications.